Fabulously Delicious: Week 4 - Recipe Lowdown
Look at us friends...we've made it through week four!! A WHOLE MONTH OF COOKING THROUGH RECIPES! I can't believe it! I finally have an official routine down - recipe picking and grocery shopping on Saturdays and feeling FREE on Sunday! I can't tell you how many Sundays I've had to order takeout, or just rummage through the fridge trying to figure out what to eat because I poorly planned my food sitch. THEN comes Monday evening and I have to go to the store...ugh. #theworst
So NOW, I've got it all figured out and it feels good.
Let's dive into this week's recipes!
Spaghetti with Arugula Carbonara
Sunday Night
OK, So before choosing this recipe, I looked at EVERY.SINGLE.PAGE of this book and was blown away! I can't tell you how many recipes I bookmarked to make! This book is amazing!! What I especially loved was his love for and frequent use of dried fruit! HOLLA! I could honestly find myself cooking my way through this book one day, such beautiful and wholesome recipes.
SO! For this week, I chose Ian's Spaghetti with Arugula Carbonara because A. it seemed like a pretty simple recipe to make out of ALL the recipes I bookmarked and B. I've NEVER made a carbonara! The mere fact that you're making a sauce out of eggs is so intriguing to me and I think deep down I had always been a little scared to try, but you know what, IT WAS EASY!! This dish was VERY simple, super flavorful and by adding that arugula in there, it added a nice peppery punch!
Chicken Breasts Stuffed with Artichokes, Lemon and Goat Cheese
Monday Night
Probably one of my favorite dishes from the week! The artichoke, lemon and goat cheese filling was absolutely delicious! It hit all the right notes - it was hearty, zesty and cheesy. I served this dish with some simple roasted asparagus that I put in the oven the SAME time as the chicken so they were done together. It doesn't get much easier than that! I will most definitely be making this dish again!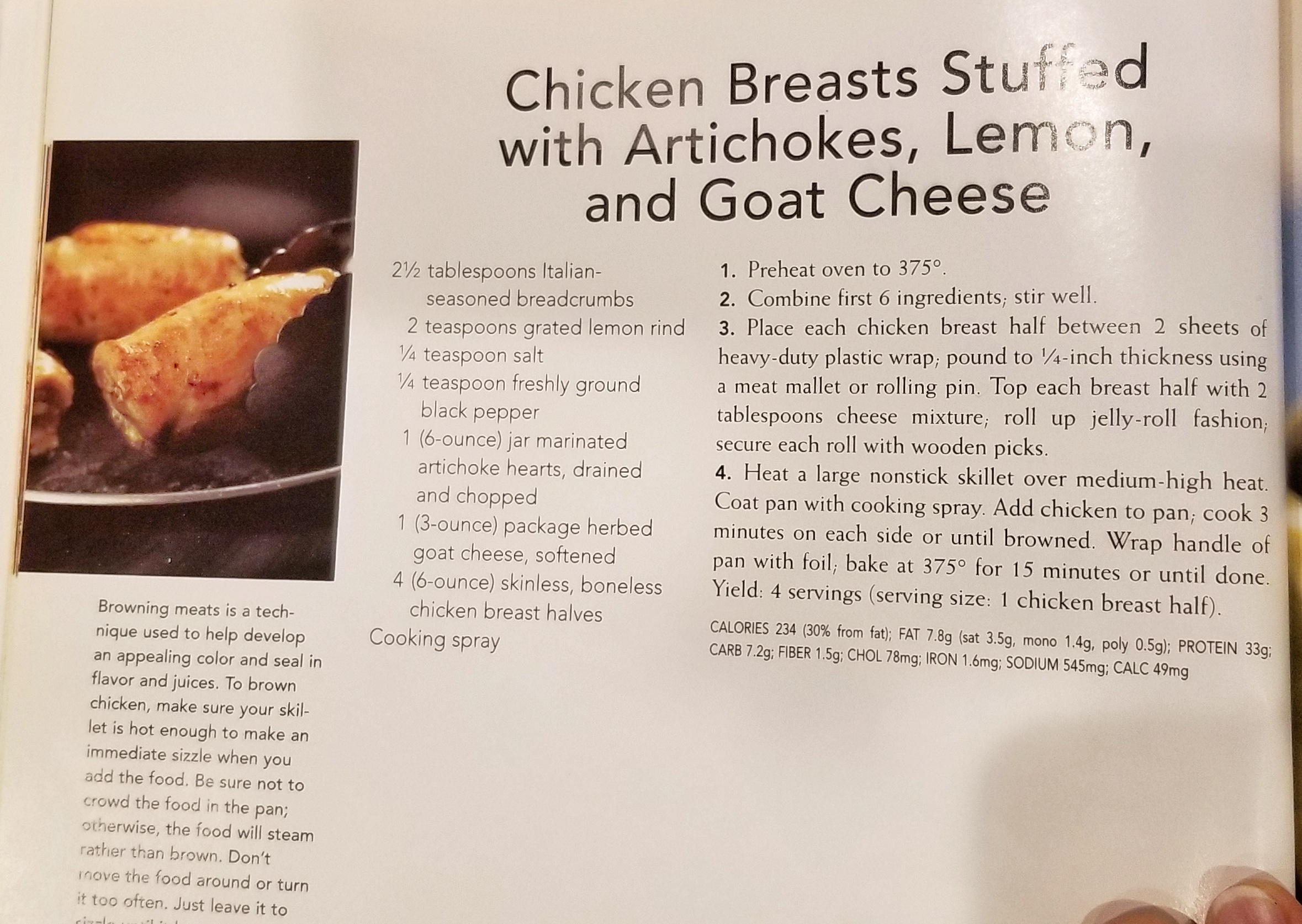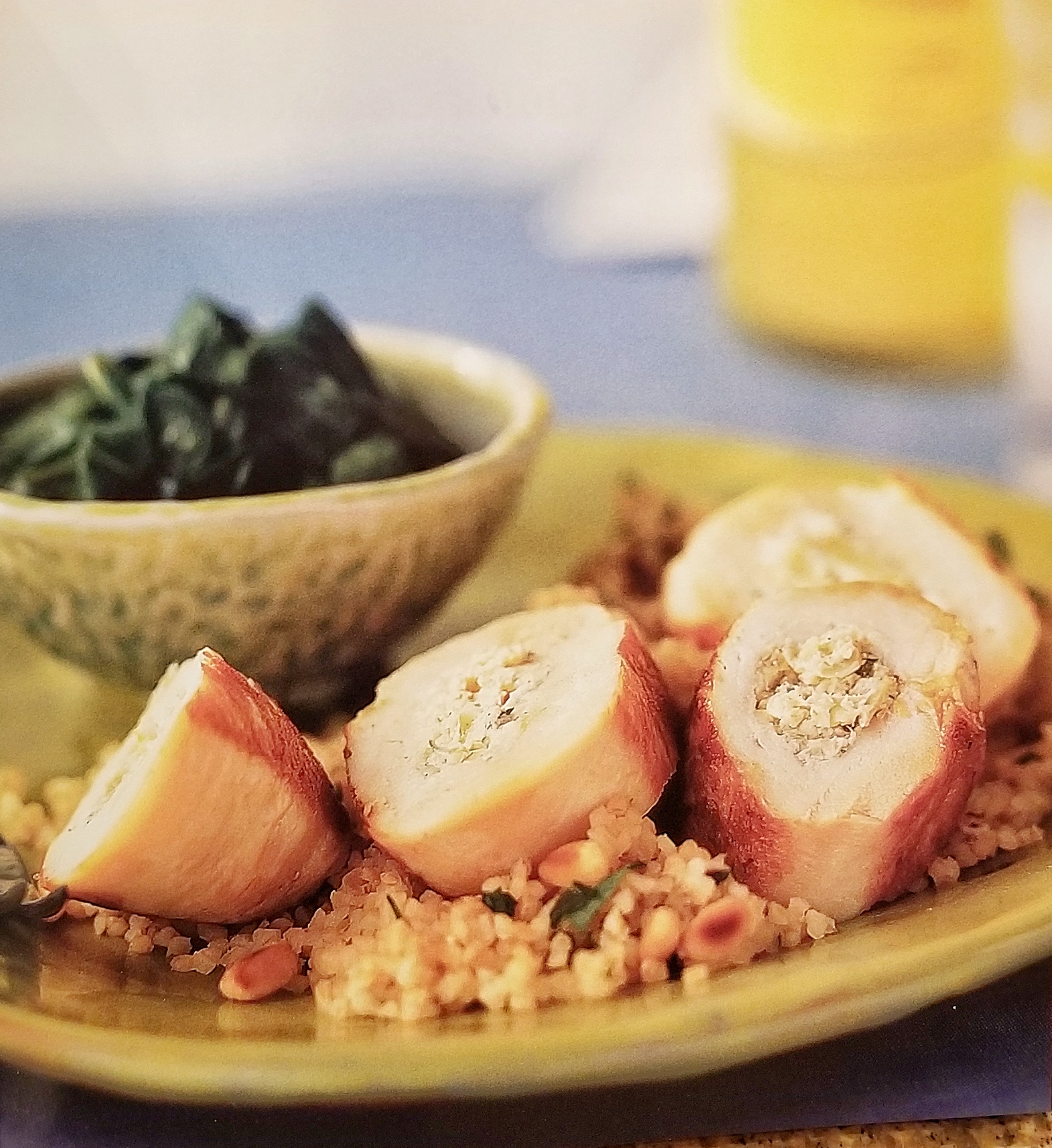 Amanda Freitag's Strip Steak with Herb Butter & Tomatoes
Tuesday Night
I love the idea of a delicious, juicy steak with a flavorful herb butter served with a fresh light side! However I will say, New York strip steaks aren't my favorite cut of meat - a little too fatty in some areas that can leave it tough to eat. I did like the overall composition of this dish - the herb butter, the heirloom tomatoes, so I would definitely make this dish again just using maybe a filet mignon steak instead. One other tip: Make sure you use choose super fresh tomatoes. By the time I made this dish, my tomatoes got a little mushy and were NOT that enjoyable. Like I said, loved the concept of this dish, but would alter it juuuuuust a bit! Oh - Herb butter was on point!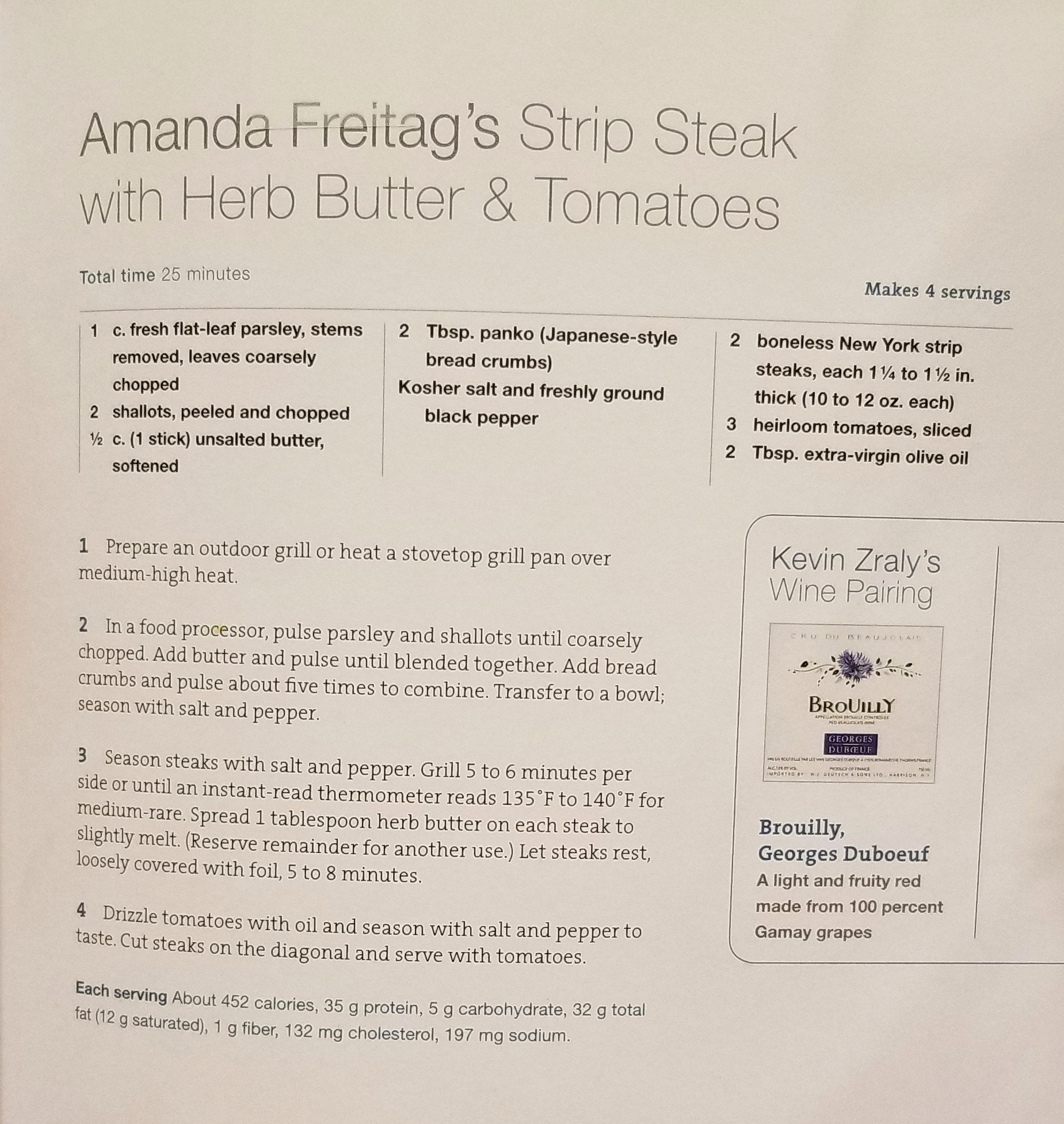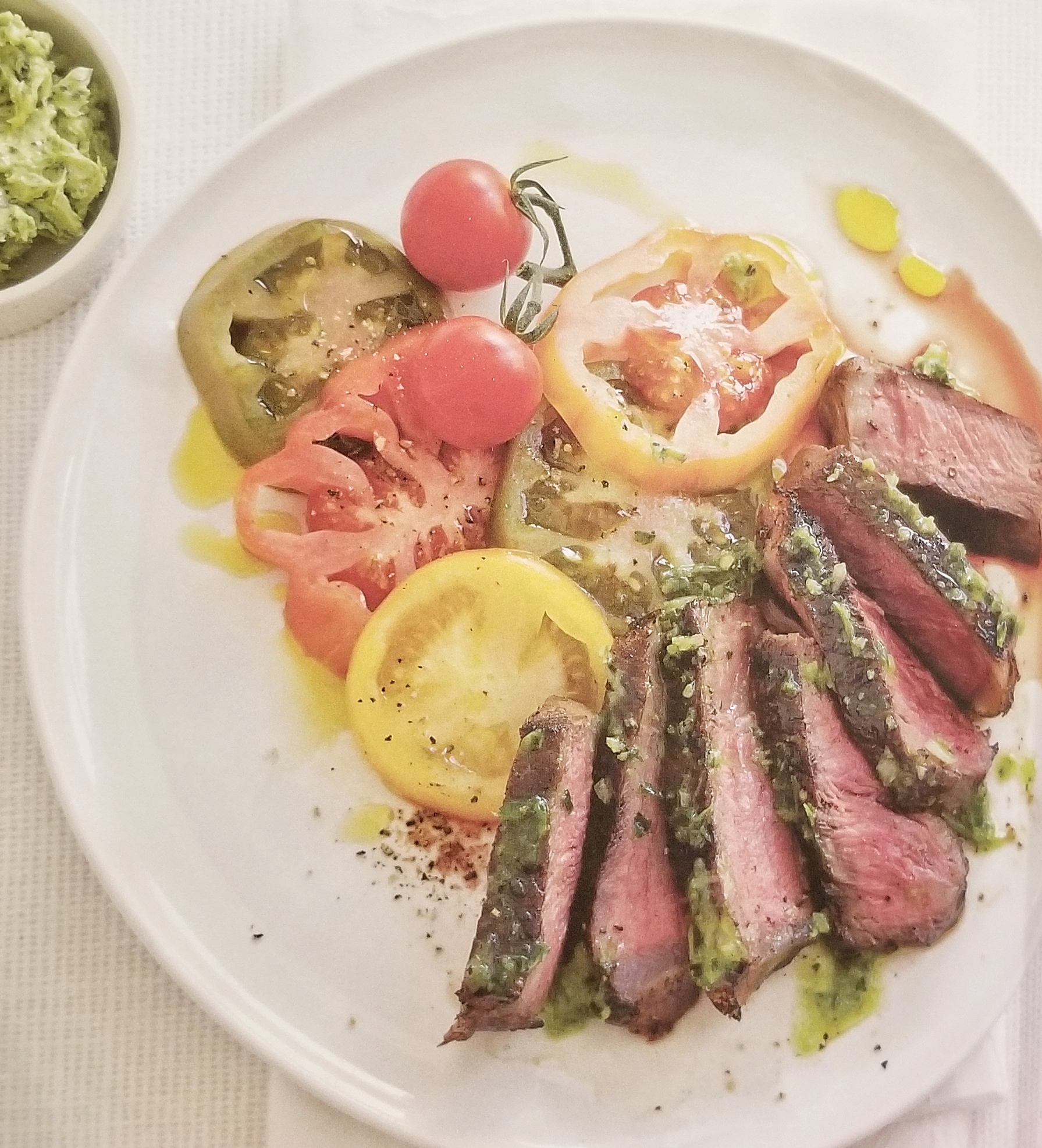 Quick Coq au Vin
Wednesday Night
Going back to the chicken cookbook that made me very happy earlier in the week, I saw this recipe and decided, hey why not!? I love cooking with recipes that use wine, whether it be red or white. It really does add so much extra flavor to the dish - unfortunately, the alcohol is cooked out, but that's what pouring yourself a glass of wine and enjoying while cooking is for, right?!
I love me some chicken thigh! This piece of the chicken is super flavorful, definitely more fatty than the trusty chicken breast, but it's nice to switch it up every once in awhile! This recipe is a quicker version than an original Coq au Vin. An original version would normally take up to about an hour and a half, so when I saw "quick" I was so down! I've never made an original version of this recipe, but what I can tell you is it tasted like it was pretty darn close to whatever the OG would taste like! That wine in there was AMAZING! It added such a glorious richness to that sauce that seeped into not only the chicken, but the mushrooms and carrots as well! SO SO GOOD!
Spring Onion Pizza
Thursday Night
So I gotta be completely honest with you all... This has been one of the recipes I picked out that I probably leaned furthest away from following the ACTUAL recipe. I didn't end up using homemade pizza dough (or dough you'd normally buy at Trader Joe's), I just bought Pilsbury pizza crust because I was lazy and didn't wanna have to go to another store. So because of that, I had to tweak this recipe a bit. Oh! I also added some bacon on top because when there's an opportunity to add bacon, YOU ADD BACON! Regarding the dough though (heh!), I will say that this particular dough absolutely worked for this type of pizza, but I'm sure a homemade dough would OBVIOUSLY taste way better and make for a more rustic pizza!
Just a quick little tid bit of knowledge: I'm a pizza lover, pizza freak, I mean, pizza = life. I have a pizza oven where I love to make homemade pizzas so I rarely make pizzas in the oven. This pizza just sounded SO good that I just had to make it! But...
Now comes the honesty. After the pizza beautifully came of the oven I was stoked. When I started eating it, I realized I could do without the balsamic soaked scallions. They ended up making the pizza a LITTLE soggy in some parts so I basically ended up taking them off and eating a mozzarella and bacon pizza which was DIVINE! haha The whole time I was eating the pizza I kept saying to myself "my pizza's better!" I mean you can't really screw up pizza, just maybe don't put soaked scallions on there! lol
I will say, I'm not putting this book away, there are still PLENTY of recipes I want to try, I think I just learned I need to follow my heart ALWAYS when it comes to pizza! haha #pizzamyheart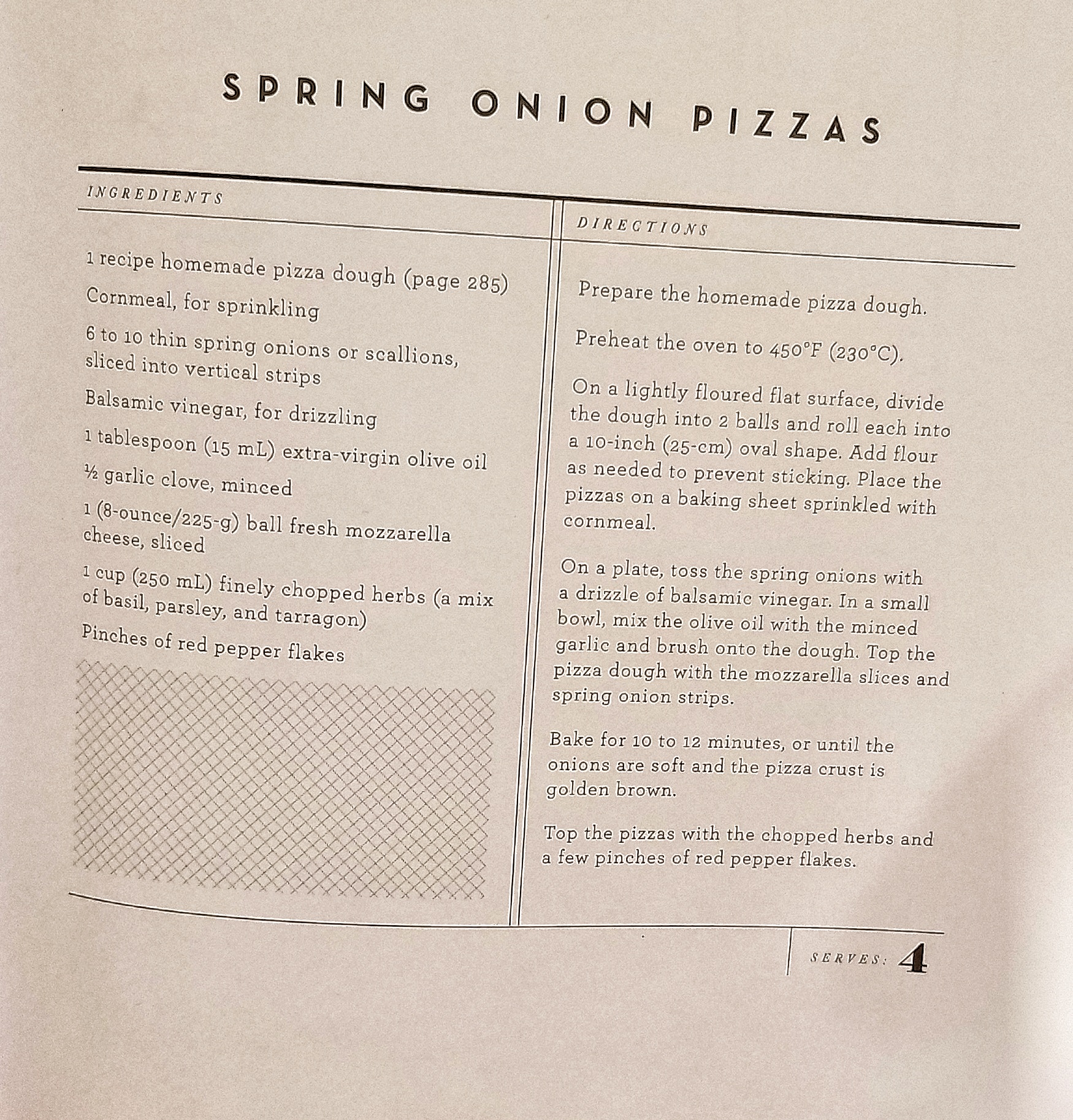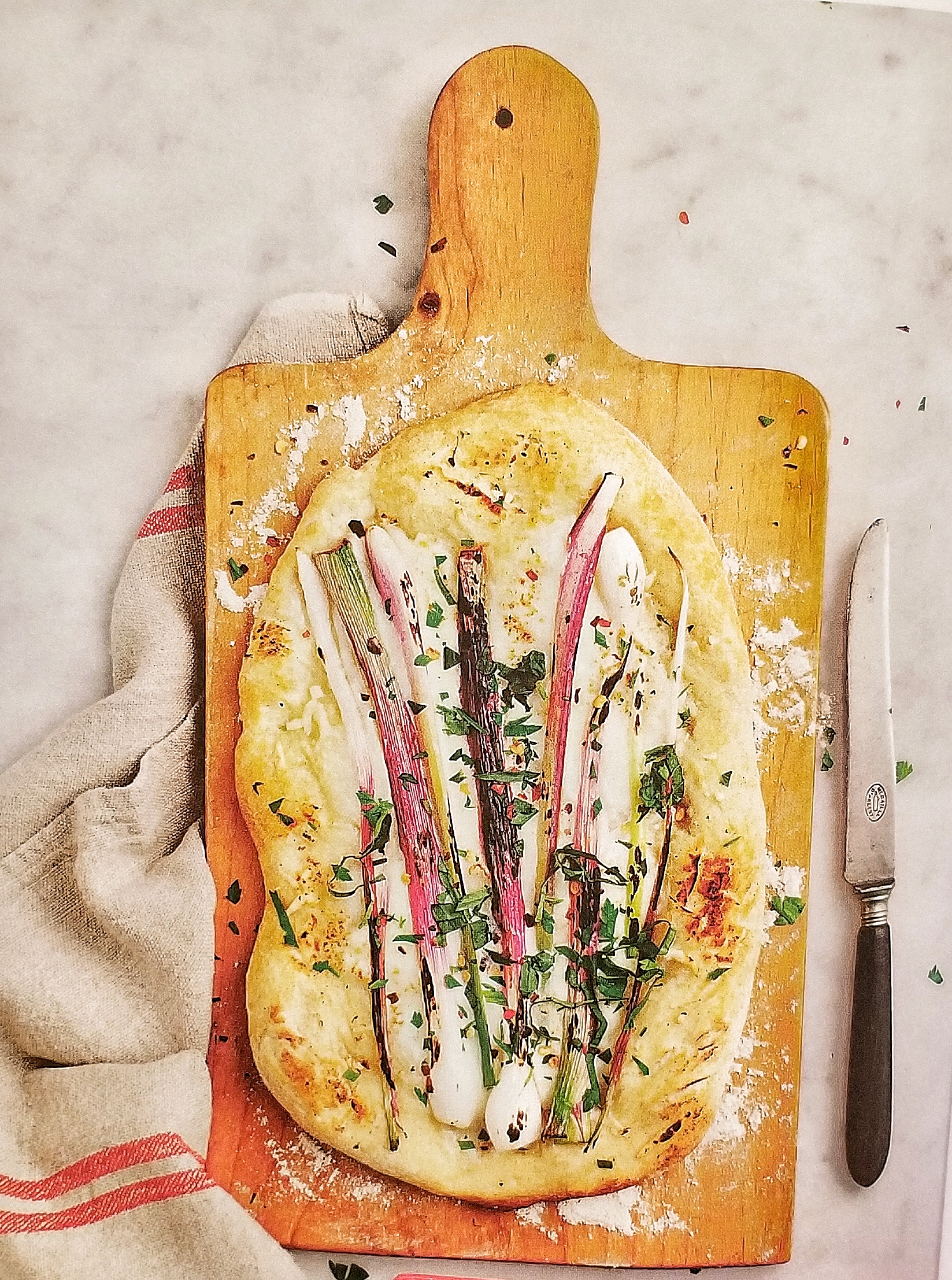 WE DID IT! Week four accomplished! Have you tried ANY of the recipes from the past four weeks?! I'm so so curious to see what you guys think or if you've tweaked them...
I'm ready for a new week, new cookbooks and new cooking experiences! Let's do this! WEEK FIVE HERE WE COME!
Follow along for all the fun!