Fabulously Delicious: Week 5 - Recipe Lowdown
You guys are awesome. I honestly just want to say thank you for all the encouragement, the love, especially over on Instagram! I TRULY appreciate you all taking the time out of your busy lives to watch my silly cooking videos! You all 100% hold me accountable for this adventure, which I think is pretty cool! There was a time during this week where I did NOT feel like making dinner, but I thought to myself, nope, gotta do it...PEOPLE ARE WAITING!! I mean not really, but you know what I mean! lol Thanks again, means a lot! Now let's dive in...
Grilled Two-Cheese Burgers with Garlic Dressing
Sunday Night
New week, new book! Oh man these burgers were so so good! I've made a TON of burgers, but for some reason, these particular burgers tasted like restaurant burgers! I didn't end up grilling them on a "GRILL" per say, but my stove-top worked JUST fine! A couple key things I picked up from this recipe:
1. Buying 80% lean ground beef really does make a difference in the way your burgers taste.
I decided to just go for it because this was the main part of my meal. I served the burgers with a light arugula salad, so I figured I could add a little extra fat to them burgers!
2. Adding the thumb indentation into the patties before cooking them.
It really does keep them flat so they don't puff up! Such an interesting little technique that I never knew before which I will be doing from now on!
3. ALWAYS ALWAYS ALWAYS read your recipes all the way through!
I think I read the recipe 3/4 of the way and said "Ok, I got it!" and starting cooking...well it turns out, THE SECOND CHEESE WAS AT THE END! I never added the Parmesan! I was wondering the whole time, "Where is the second cheese, am I losing it?" It turns out, I just need to read. Oh, and I definitely could've melted the mozzarella better. I was following the grill advice and should've just done a stove-top melting sitch!
Anyways, regardless of the missing the Parmesan and the semi-melted mozzarella, these burgers were amazing. That garlic dressing, OMG. I want more!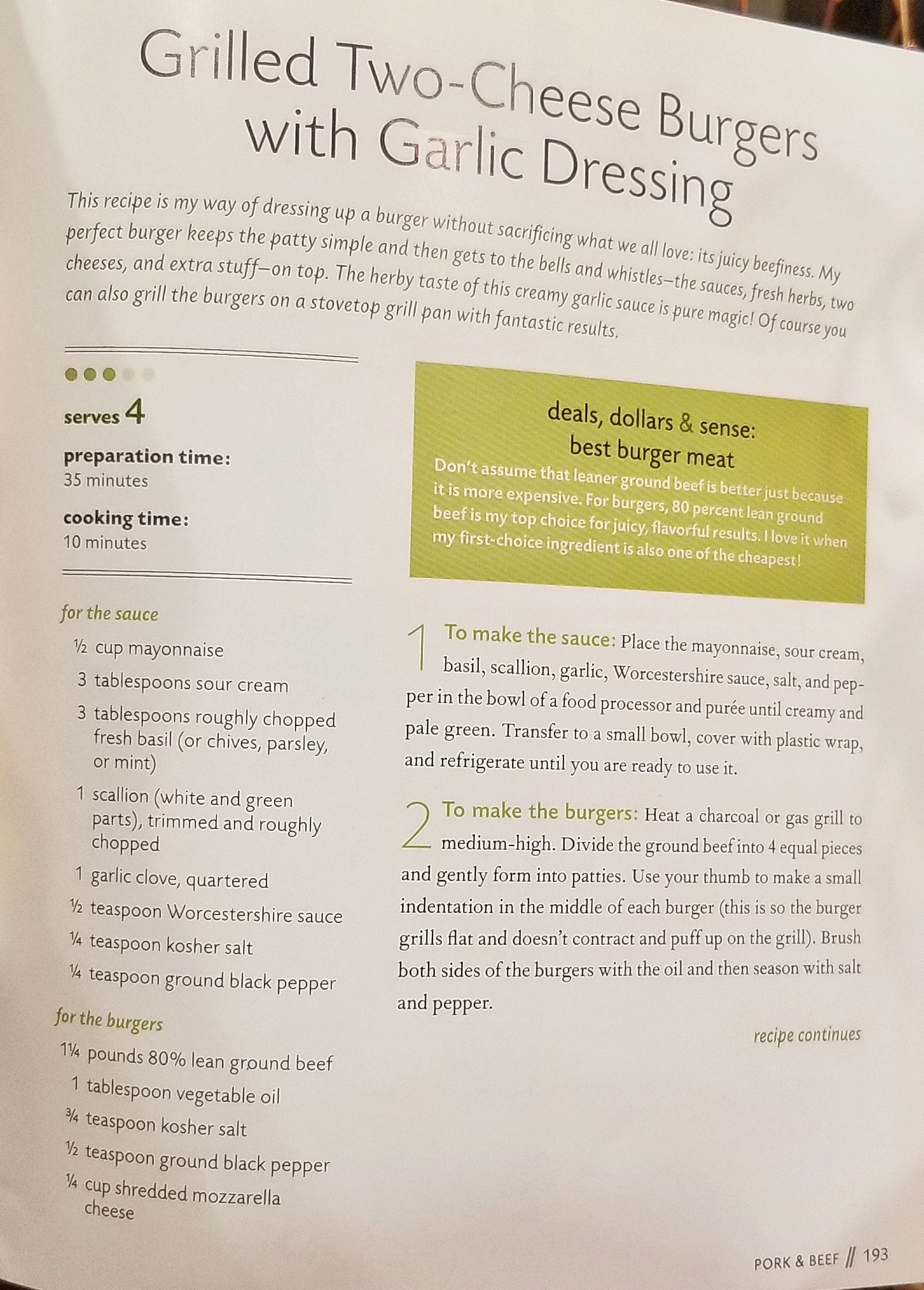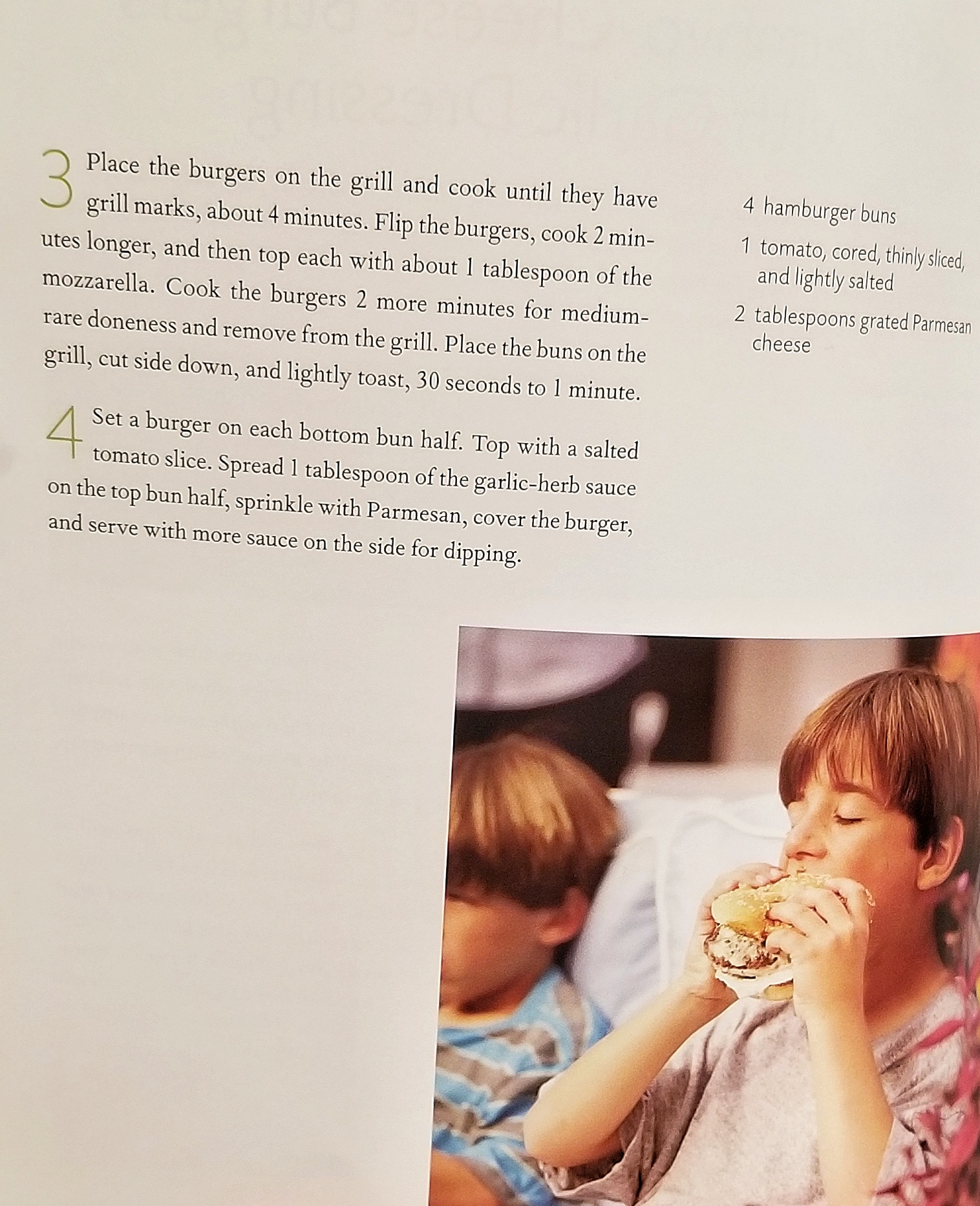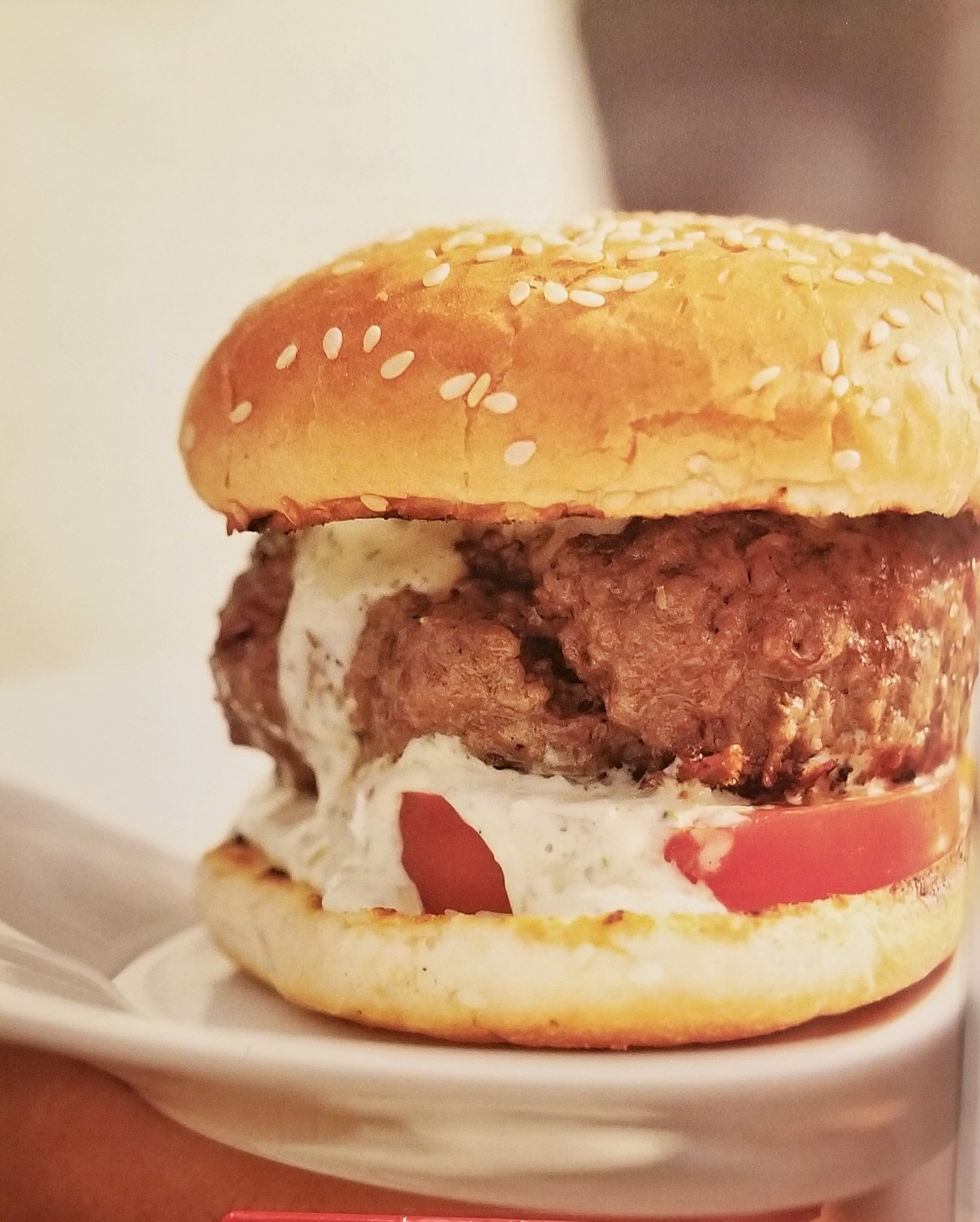 French Onion Soup with Gruyere-Thyme Grilled Cheese Sandwiches
Monday Night
I dove right into this book and picked three recipes from it for this week! There are so many super easy, really light and extremely quick recipes I bookmarked from this book. First one being this super easy French Onion soup (which I've NEVER made before), served with a delicious grilled cheese!
The soup was exceptionally easy to make! Now for the grilled cheese, you'd think, duh this is a no-brainer, well I'm the dummy who A. picked up the wrong cheese and B. decided to get fancy and bought sliced brioche bread instead sliced sourdough. Like what was I doing?! Did I blackout while I was grocery shopping? Not sure. So what did I do? I IMPROVISED! The grilled cheese was STILL delicious, super cheesy and melty, and the bread was slightly sweeter and richer.
I'm telling you, it's definitely been a challenge for me to follow a recipe for simple things like grilled cheeses and pizzas because these are dishes I can whip up with my eyes closed. However, I will say, it's teaching me patience and how to try different techniques, so for that I'm grateful!
Grilled Pesto Salmon with Orzo, Arugula & White Bean Salad
Tuesday Night
Another page out of the Cooking Light book that took NO time at all! I'm telling you, these are the kind of recipes I'm looking for during the week, especially when I get home late, I'm tired from a great workout and I'm super duper hungry!
Although this recipe called for cooking the salmon and veggies on an actual grill, I cooked everything on my stovetop. Once everything was prepped, I went ahead and got the orzo going first, THEN threw the salmon on because I knew that wasn't going to take very long to cook. Once I got everything on, it was all timed just perfectly! I threw it all together, squeezed some extra lemon juice on there, added some salt and pepper and it was ready to devour! This was such a delicious dish and probably a great dish for a baby shower, bridal shower or a nice Springtime lunch! I even ate it the next day cold and it was SOOOO good!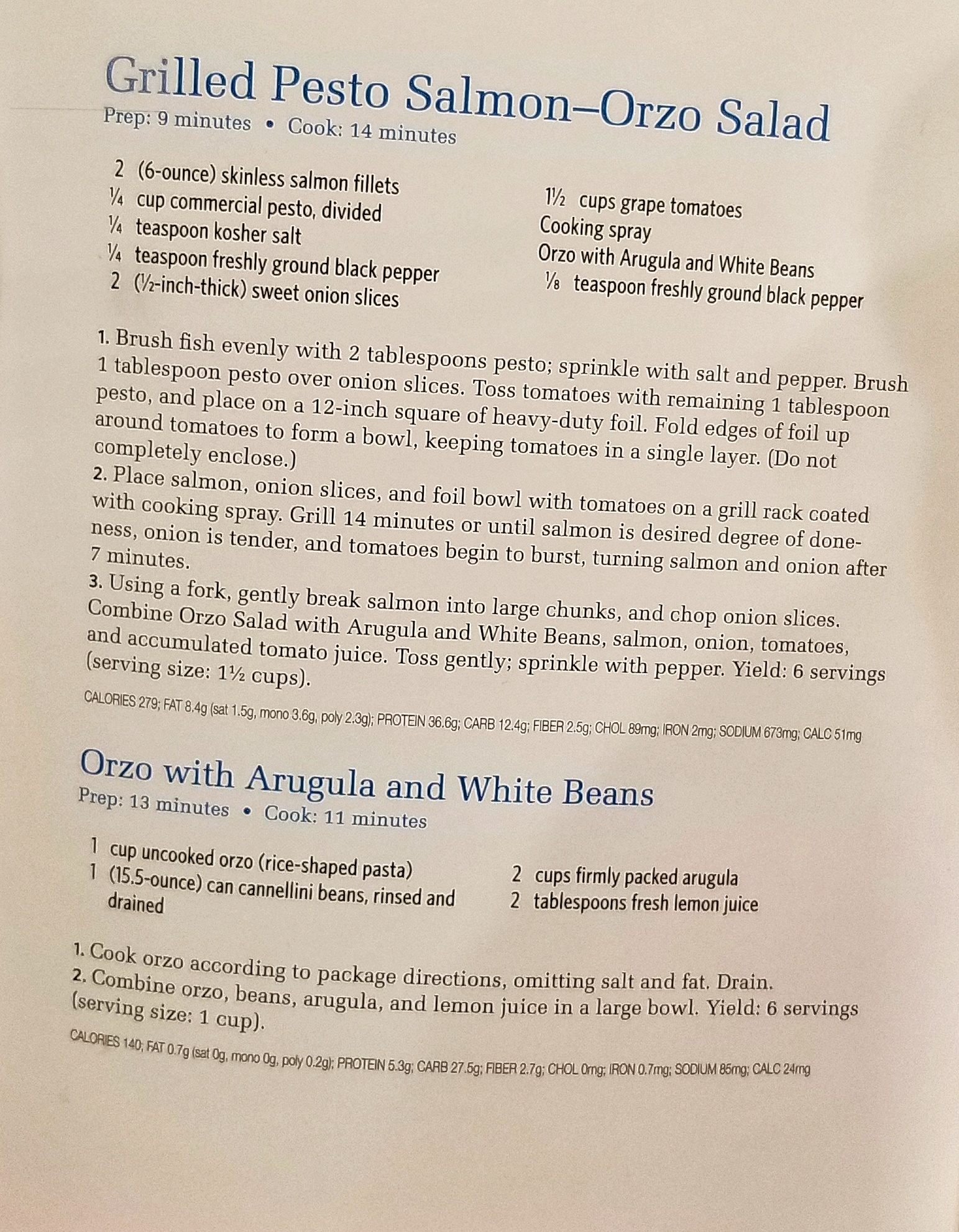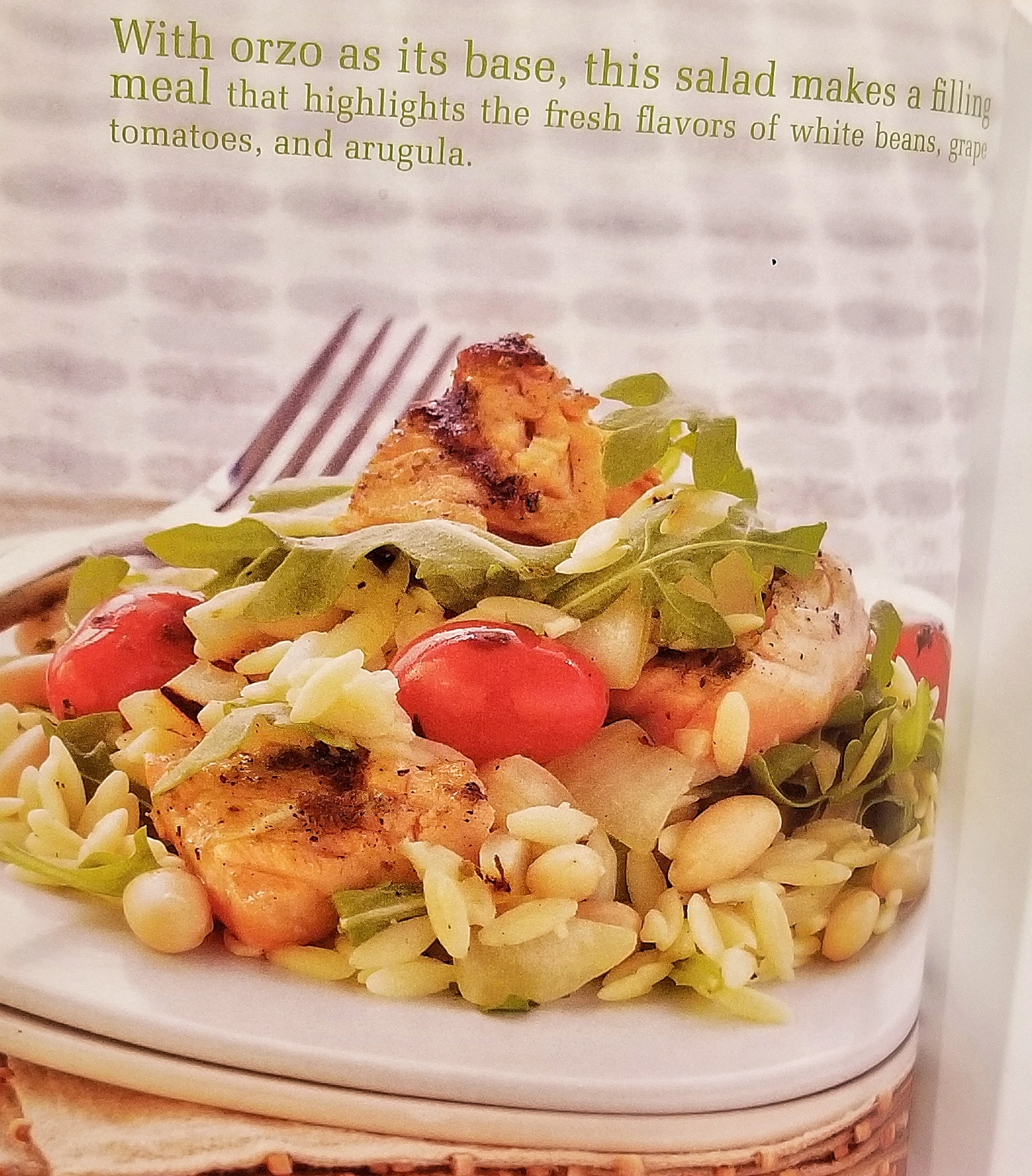 Pistou Halibut with Sautéed Garlicky Spinach
Wednesday Night
The last recipe this week out of of the Cooking Light book was this incredibly quick and very simple halibut dish. I gotta be honest, on Wednesday night, I tried a new workout (Orange Theory) and when I came home I did NOT want to cook dinner, but I'm so glad I had this specific recipe lined up for this night. It was honestly SO SO SO fast, VERY tasty, and extremely healthy! I was proud of myself for sticking to my plan for the week and not folding. One tip: Try to find fresh halibut without the bone. The last two times I bought halibut they were frozen, which worked out just fine, but I just don't like bones in fish....not my thang. Other than that, this dish was FABULOUS!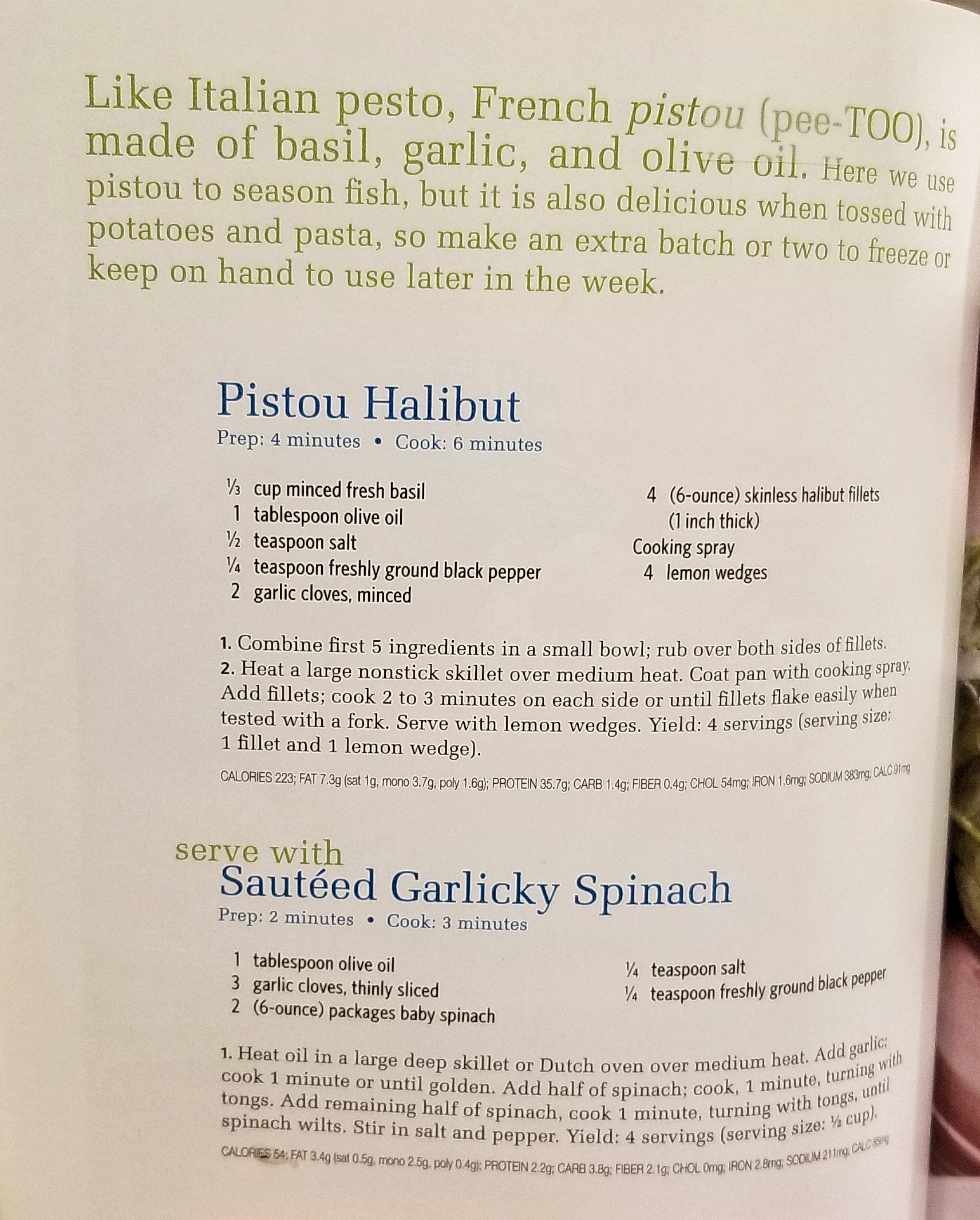 Roasted Shrimp Salad
Thursday Night
I moved on to Ina Garten's book, "How Easy is That?" because I figured why not round off the week with yet another simple recipe! The only thing I'd say is if you're going to make this recipe, make sure you buy super fresh shrimp that has already been deveined and detailed.
A. It will make your dish taste a WHOLE lot better
and
B. It makes your prep time SOOOO much faster!
I'm gonna be honest, this wasn't my favorite dish, but I think it's because I used frozen shrimp instead of fresh. In case you're wondering, Ina's recipe is actually an appetizer recipe, so I decided to actually make a salad out of it and throw it on top of some arugula. I didn't need any dressing because the mayo coated the greens just perfectly. I did squeeze a little lemon juice over top which added a little extra zest!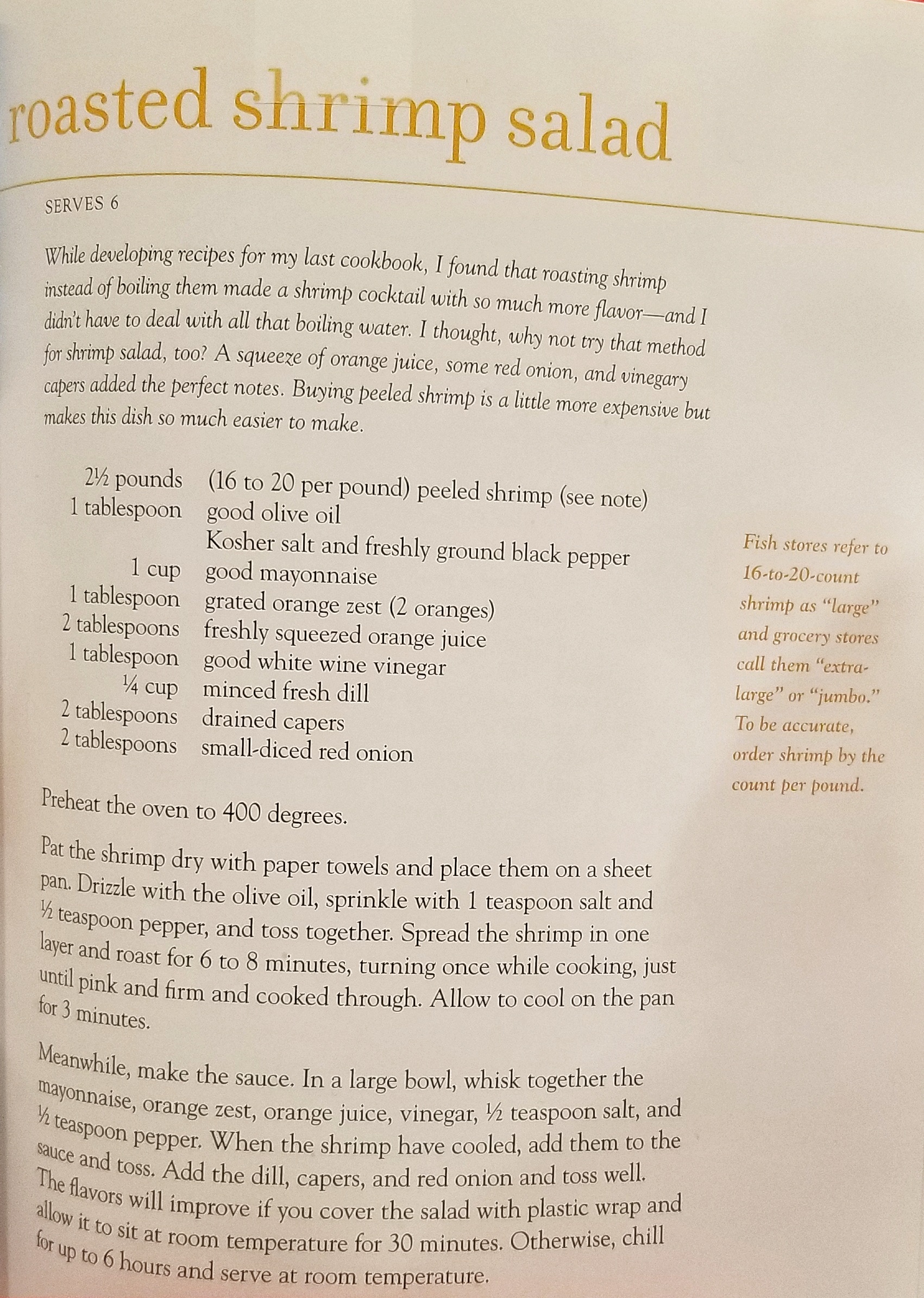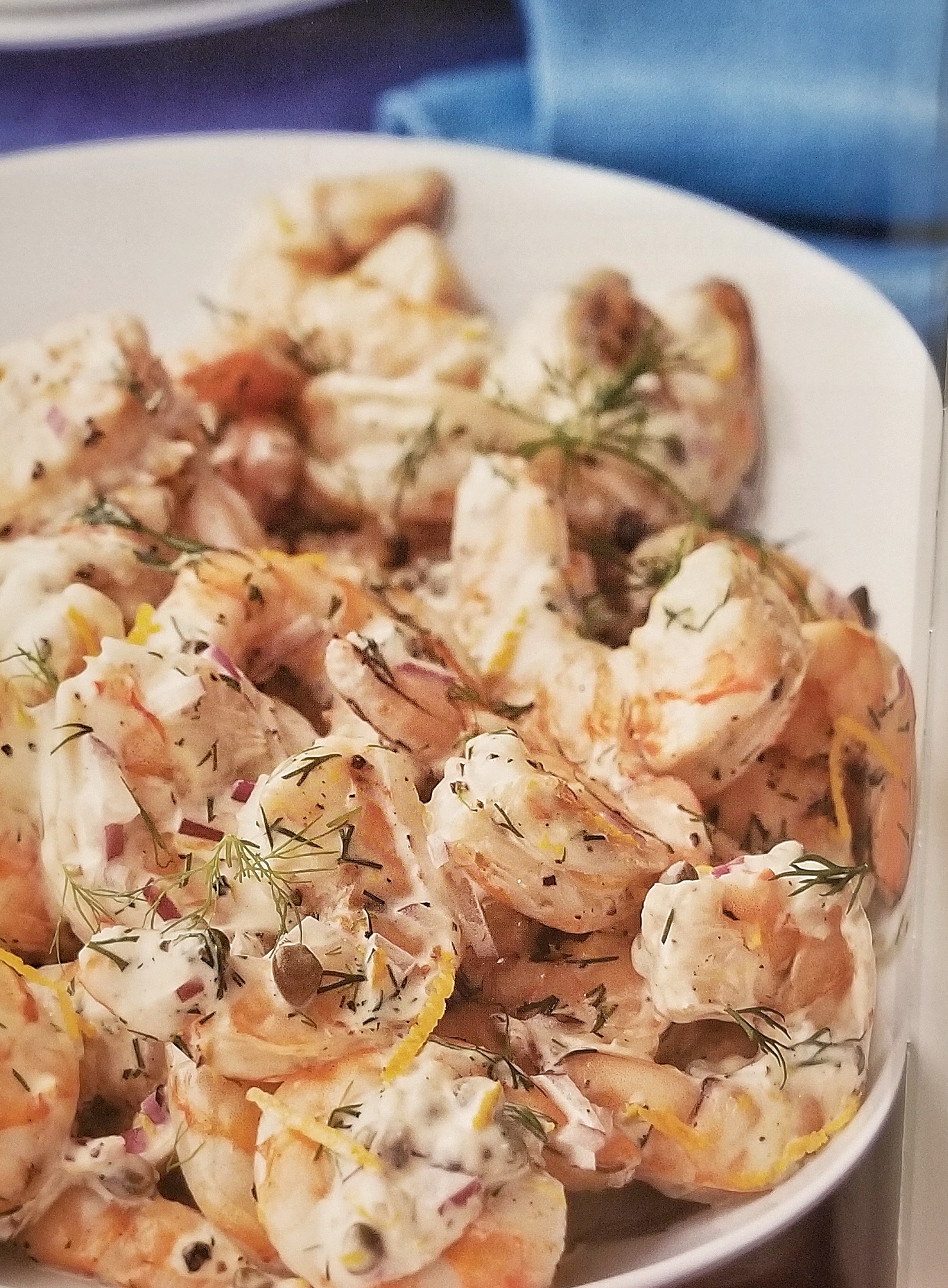 Comment below if you have any cookbooks I should take a look at! You know I'm down to check out something new! This week alone I maaaaay or may not have purchased two new cookbooks! haha
On that note...
Happy Sunday and Happy Super Bowl!