Fab Finds: Fav Five 1.1
I'm back with my Fav Five new things I'm loving this week!
I told you I'd be back one way or another with my FAV FIVES and here I am, so without further adieu...
Honestly.... THE best drink Starbucks has EVER created. I'm about to tell you how obsessed I am with this drink...you ready?
So first, I discovered this drink one day by seeing its pretty picture on the menu and decided 'what the heck, why not? I like myself a regular cappuccino, so let's try this baby cold!' SO, I order it EXACTLY the way I would hot, "Grande, with 2 Splendas and cinnamon powder on top!" The drink is handed to me through the drive-thru window, and the first thing I notice is the BRAND NEW LID they have! They're super sleek and swanky and makes this drink even more inviting. The next thing I notice is how completely velvety and PERFECT this foam is. I'll tell ya, my hot cappuccinos have NEVER had foam this perfect...but this foam, there is no comparison. Now, you have the option to drink directly from those swanky new lids because they have a sippy opening, OR you can insert a straw. It totally depends on your mood, butI do both! Now, what does it takes like? Well, if you order this drink EXACTLY like I order it, IT TASTES LIKE PIE!! It's the perfect amount of sweetness to bitterness and it's heavenly. I have recommended this drink to countless people and they have all agreed with me. It will not disappoint. It's the perfect coffee drink for the summer and for anytime! DO IT.
We're about to get real right about now my peeps!
I've always been that kind of person who loooooves to switch up my deodorant game! Not exactly sure why, just do! I've probably tried everything you can think of - women's brands, men's brands, extra strength, natural brands and it's not because I have odor issues or sweat profusely, it's honestly because I get bored and just want to try something new! To each is own, right? Some work, most don't... lol I think my biggest problem with deodorant in general is the constant build up of product under the armpits... Even though we clean under there, there just seems to be a hidden layer of build up in our pores that you just can't get rid of! It drives me BONKERS! Then we just keep re-applying and you're never actually getting to the source or to our sweat glands, if you will! SO, one day I discovered Sway Deodorant and I was EXTREMELY curious. I read about how this particular deodorant was free of aluminum and chemicals, effective in long-lasting protection, weightless and has a clean feeling, and is free of residue and stains.
Then I read their ingredients:
Apple Cider Vinegar
Witch Hazel
Aloe Vera Juice
Rose Water
Essential Oils
The very last thing I read that completely sold me was "DETOXIFY and restore the naked charm under your arm." I've read the importance of detoxifying under your arm and I just KNEW that was going to be the KEY to getting all that gunk out of there and starting fresh. So I decided to give it a whirl...and guess what? I LOVE IT!! I've been odorless and dry since I started! It's crazy to me how long-lasting it really is! #obsessed
HOLY COW am I obsessed!! I started this how on Tuesday night, binged three episodes in a row because I just couldn't stop, woke up Wednesday morning and watched another episode before work and finished it last night! Like WHAT!??!! First of all, I absolutely LOVE Michael C. Hall. If you haven't seen him in Dexter, you need to. Oh man, so good. Back to Safe... This show is riveting, mysterious, it has moments of relief, but best of all...IT'S BRITISH!! I love me some great British shows, and this one in particular is fantastic! You honestly can't even tell that Michael is American is real life! Go watch it now, you won't regret it! #bingeworthy
I am 100% obsessed with Pitaya. Ok, in English, Dragonfruit. I love myself some frozen blended dragonfruit topped with a bunch of goodness put into a bowl, omg so good. The other day I was out picking up dinner in my neighborhood and noticed this new place that had opened up just down the way and decided I should IMMEDIATELY look up their menu! Jugo is a fun new place that serves up signature salads including the "Syde Chick" and the "Seashore" as well as freshly blended smoothies and the fabulous Pitaya (or Acai) bowl - you decide your preference, which is pictured above! They also offer oatmeal bowls AND cold press juices too! As you can see from the photo above, the presentation is perfection, the inside of this restaurant is absolutely pristine, and the staff was so incredibly friendly! Is is bad that I want to go there for breakfast AND lunch in the same day?? I already have eye on that "Tri Tip Chop" Salad! OMG.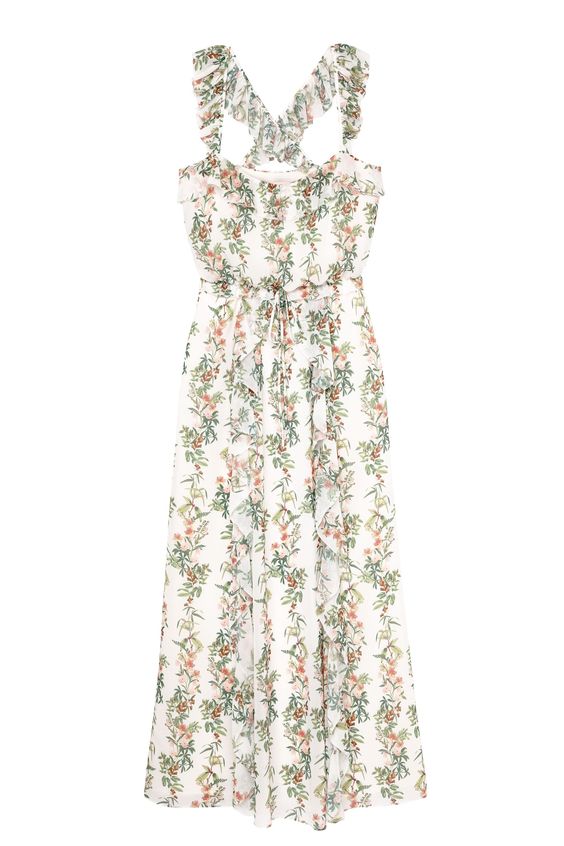 Gal Meets Glam Collection
I have been LOVING the new Gal Meets Glam Collection since Julia's launch of her gorgeous dresses in April! Julia Engel is the creator of the fabulous blog Gal Meets Glam that I've been following for awhile now and she recently launched this collection of dresses and they are STUNNING! Each month she plans on launching a brand new set of dresses to flow with seasonality - how fun is that!? So far I've purchased three of her beautiful dresses because I just love them so much!!! The one above (Isabella, also coincidentally my niece's name) is so so pretty and perfect for any summer get together! What's wonderful is that these dresses come in a wide array of sizes and a nice variety of styles! Go check them out, they'll make your heart flutter.